On this day back in 2017 Public BRICKstory (PBS) opened its first special exhibition in cooperation with the museum Villa Urbana in Heitersheim, South Germany to the general public. This cooperation brought PBS to life.
As the founder of PBS, I want to take this occasion to describe the origins of PBS in a series of articles, beginning with a retrospective remark on the fundamental cause of PBS and how it ignited the cooperation with the Villa Urbana museum.
The motive to work with LEGO© in a historical context traces back to the two activities that have always fascinated me: The study of history and the construction of LEGO© models. Thus far these practices have accompanied me throughout my life's journey, manifesting in a Master's degree and a substantial presence in the international LEGO© building community. First steps were taken when I teamed up with fellow builders around the globe forming the collective VirtuaLUG to tell the story of legendary Greek king Odysseus recounted in the Homeric epics. As the historical expert of the group I had the honor to coordinate and plan a massive collaboration in the years 2013 and 2014, which ultimately celebrated its premiere on the annual LEGO© convention Brickworld Chicago in June 2014.
It was the first time that I built a historical LEGO© model. This seemed especially strange to me given the fact that by then I had studied academically the ancient world for almost three years. Up to this point I had never before thought about the ambition or idea to combine my passion for the narratives of the past and the colorful bricks that all the while had paved huge quantities my bedroom floor.
This changed with the success of our Odyssey collaboration. VirtuaLUG's audience particularly remarked on how our constructions sparked an interest into classical Greek life and writing. It was then that I first really recognized how the intersection of LEGO© and history could harbor educational purposes, impart knowledge and make the stories of the past accessible to a wider public, especially children. This notion proved to be foundational to the creation of PBS.
In 2016 a good friend and I discussed the possibility of a project to convey history effectively within the context of the museum and other public spaces. After the idea had been brooding within my subconscious for a while, I was eager to get started. Luckily, during a private visit to a regional museum housing the remains of an ancient Roman villa, the director was immediately taken by our concept. We were thus commissioned to recreate the lavish building within the medium of LEGO© and were happy to introduce it to the public on the 31st of March 2017.
The journey of PBS will be continued in the following blog posts.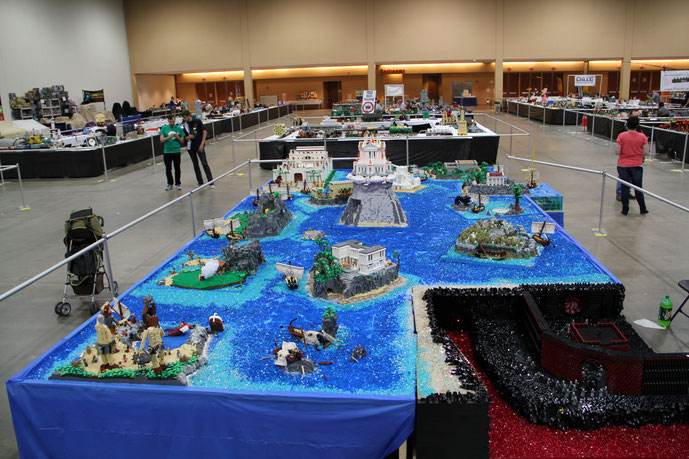 Overview of VirtuaLUGs Collaboration "Homer's Odyssey" [Photo: Kevin J. Walter]